WELCOME TO TRYDEAL.COM
THANK YOU FOR VISITING YOUR ONE STOP SHOP FOR LICENSE PLATE HIDE GADGETS AND PLATE FLIPPERS. HERE YOU WILL ESSENTIALLY FIND TWO DIFFERENT LICENSE PLATE HIDE GADGETS: CAR-CURTAIN-COVER AND NEW CAR/BIKE CARBON-FIBER-FLIP-DOWN. EACH NUMBER PLATE HIDER WILL HAVE MANY DIFFERENT OPTIONS AVAILABLE. YOU CAN ALSO BROWSE ALL PRODUCTS AND ADD THE OPTIONS YOU NEED.
AND IF YOU HAVE ANY QUESTIONS PLEASE DON'T HESITATE TO CONTACT US
Featured
What Our Customers Have To Say
Awesome gadget, couldn't be happier. Installation was supper easy on my 2009 GSXR1000
James A.
Carbon fiber and aluminum version looks AWESOME on my C7 Vette! Got the wireless because I was told installation is easier and it really was easy. 2 bolts hold the gadget onto the rear bumper, 2 more bolts hold the plate on the gadget and 2 wires I connected to my license plate light, that's really it!
Nick O.
Definitely the coolest aftermarket part on my 17 Kawasaki ZX10 and I have a lot! Thanks for the help with the installation btw A+++
John W.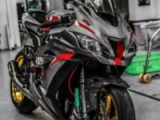 I put it on my Honda Grom and everyone that rides with me laughs about it including me. Thanks for the quick shipping
Alex J.